Official News Release Download
On April 11th at 7:00 pm, AbbyPD Plainclothes Officers were conducting routine patrols in the 32000 block of Mt. Waddington Ave when they observed a brown Jeep owned by a known offender leave a problem residence in the area. A short time later, a traffic stop was conducted.
Four occupants were present in the vehicle at the time of the stop. One of the occupants, a 34-year-old man, was arrested on outstanding warrants for Possession of Stolen Property and driving offences.
A second passenger, a 43-year-old man known to police, had two firearms in plain view at his feet. During a further search of the vehicle incident to his arrest, officers located an additional firearm, ammunition, drugs, and cash.
Police are recommending a variety of firearms and drug charges in this case. Each day police officers face uncertainties during traffic stops and calls for service. AbbyPD is committed to ensuring public safety on the streets of Abbotsford.
Photo for Release: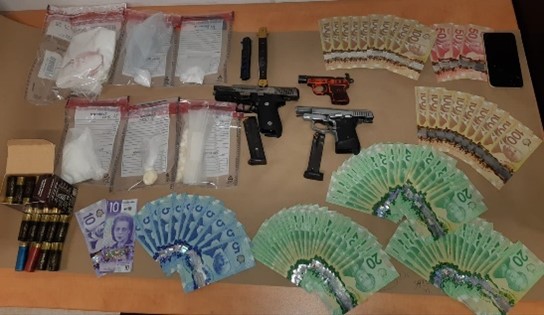 AbbyPD File 2023-15990
Sergeant Paul Walker
Abbotsford Police Media Relations Officer
[email protected]