Pathways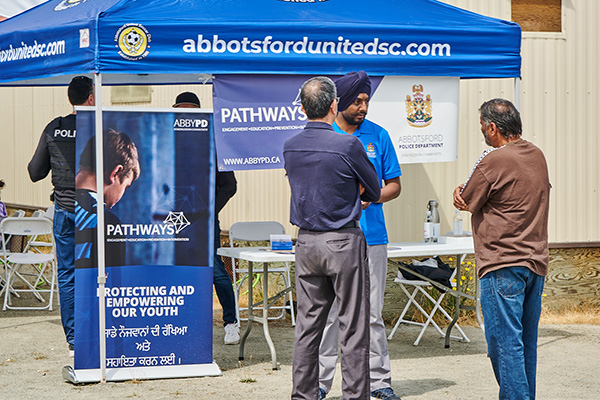 The Abbotsford Police Department's PATHWAYS program
implements evidence-informed strategies to offer services to youth and young adults identified as being at-risk for gang-participation or other criminal activities. The intent is to divert these individuals away from the criminal lifestyle by providing services that address the underlying causes of the risk factors.
Development and implementation of PATHWAYS are rooted in three guiding principles:
Mitigate risk factors and enhance protective factors.
Practice cultural responsiveness and ensure that gang prevention initiatives are responsive and inclusive of cultural communities.
Foster collaborations to maximize impact and build and strengthen partnerships at all levels to support cross-cutting prevention efforts.
Research indicates that gang involvement is a process that happens overtime. The individual who involves in gang activities usually influenced by the presence of various risk factors that put them at-risk of joining gangs. There is no one reason why someone joins gangs and not all individuals join for the same reason. Those who do join gangs tend to have specific risk factors. The identification and understanding of these risk factors help us to determine where and how to focus our efforts.
PATHWAYS brings a balanced three-pronged approach (Community Engagement, Prevention, and Intervention) that aims to create a long-term, integrated response — rather than a "single solution" — approach.

Community Engagement

Listen, Identify, understand and address the factors that have an impact on community due to gang participation.

Build trust and mutual understanding with diverse and emerging communities.

PREVENTION

Identify and address risk factors and strengthen protective factors to deter gang participation.

Take preventative approaches through engagement, education and empowerment.

INTERVENTION

Provide intervention opportunities for at-risk youth and young adults to prevent them from gang participation.
Community Engagement initiatives include connecting with the community on a broader level, while simultaneously creating more room for Prevention and Intervention. Prevention initiatives mainly focus on educational programs that meet the needs of the community and at the same time support our stakeholders who are already working in the gang prevention field.
Despite our best prevention efforts, some people will remain vulnerable to getting involved in gang activities. There are ways to intervene these individuals and that is where our intervention efforts come into play. The intervention services aims to mitigate the individual's risk factors and strengthen their protective factors through the provision of internal and external resources.
The intervention approach primarily focuses on 12–19 year-olds. However, the principles and practice outlined in this approach may also benefit older people (19– 30 year-olds) who are at-risk of gang participation. PATHWAYS provides intervention services to participants who live in Abbotsford. Service delivery can also be extended to the family member(s) or peer(s) of the participant, as long as the individual (s) is a positive influence and does not support criminal behaviour, and the participant remains enrolled within the Program.
To make sure the participants receive appropriate services there is a screening process. The screening process helps the PATHWAY's team determine whether the participant is qualified for the Program to ensure the most appropriate participants are identified for intervention. Participants will be screened and assessed as Low, Moderate or High risk.
There are two ways to make a referral to AbbyPD's PATHWAYS Program
1. Here on the AbbyPD website by filling out the referral form. Referral Form
2. To phone the PATHWAYS Referral line 604-864-4898. This option allows the person to leave a voicemail with information about the youth they are referring. The mailbox will be checked Monday to Friday, during normal business hours.
For more information please download our PATHWAYS brochure.