News Release
Official News Release
In partnership with the Abbotsford School District and ICBC, the Abbotsford Police Department is launching its "Be Safe, Be Seen" campaign to promote pedestrian safety as children walk to and from school.
As the fall and winter seasons quickly approach, daylight hours have started to diminish. Over the next several weeks, AbbyPD, ICBC and Abbotsford Schools will be offering reflective feathers to students and our community.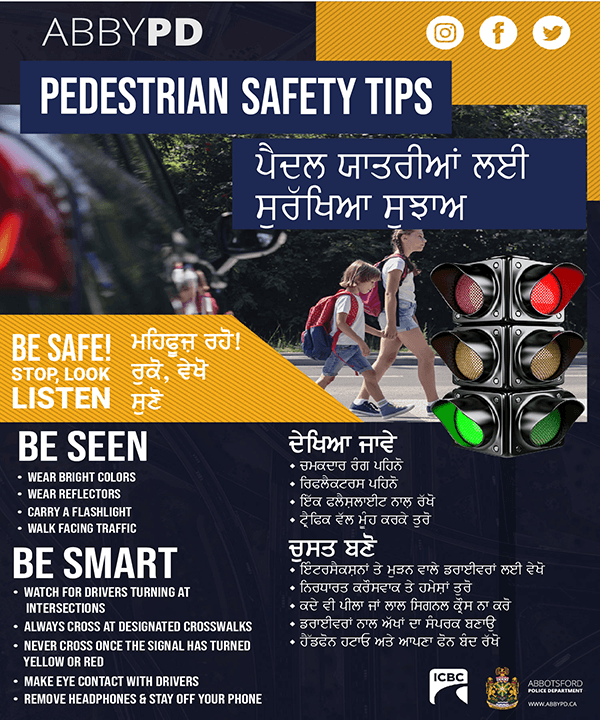 "As the weather changes and daylight hours decrease, pedestrians become more vulnerable. This is particularly true with children. The Be Seen Be Safe Pedestrian Safety Campaign is focused on providing our community with reminders to help keep them safe while walking, particularly in areas where pedestrians and vehicles interact such as crosswalks and intersections. Enhanced visibility and increased situational awareness will result in fewer accidents", notes Sgt Desi Sansalone, Abbotsford Police Department's Traffic Enforcement Unit.
Tanis Hatch, local ICBC road safety coordinator states, "We're reminding road users to be extra alert during the fall and winter months, as visibility and weather conditions worsen," said Tanis Hatch, local ICBC road safety coordinator. "When driving, focus on the road, leave your phone alone and be ready to yield to pedestrians – especially at intersections. When walking, always use designated crosswalks, make eye contact with drivers and try to be as reflective as possible."
These reflective feathers have a clip making them easy to attach to backpacks, jackets and jackets.
Pick up YOUR reflectors at:
Abbotsford Police Department Headquarters
2838 Justice Way
Monday to Friday during business hours of 9 am to 5 pm
For more tips on pedestrian safety, please visit the ICBC website at https://www.icbc.com/road-safety/sharing/pedestrian-safety/Pages/Default.aspx.
Sgt. Judy Bird
Relief Media Relations Officer
[email protected]