Official News Release Download
In 2022 the AbbyPD Drug Enforcement Unit (DEU) launched a drug trafficking investigation dubbed Project Toro in response to a 42-year-old man involved in the drug trade within the Abbotsford area linked to the BC Gang Conflict.
Over the next several months, the investigation advanced with the assistance of the AbbyPD Crime Reduction Unit (CRU), Combined Forces Special Enforcement Unit of BC (CFSEU) & Integrated Emergency Response Team (IERT).
Multiple search warrants were executed in Abbotsford, Burnaby & Chilliwack communities, resulting in 5.5 kilograms of drugs consisting of Fentanyl, cocaine, and methamphetamine being seized along with over $84,000 in Canadian cash. Further, sixteen firearms which included prohibited and restricted devices, were also seized.
On April 26th, 2023, 42-year-old Khamidi Ferdinand and 64-year-old Constance Vince of Abbotsford were arrested in relation to this investigation. Charges of Trafficking a Controlled Substance, Possession for the Purpose of Trafficking, Weapons Trafficking, & Possession of a prohibited or restricted firearm with ammunition have now been approved by the Public Prosecution Service of Canada. Both remain in custody pending their next bail hearing.
Photo for Release: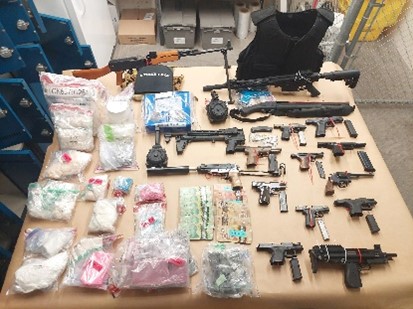 AbbyPD File 2022-22328

Constable Scott McClure #553
Abbotsford Police Media Relations Officer
[email protected]