Official News Release Download
Today, April 28th, AbbyPD investigators are releasing a video of the suspect vehicle involved in the collision. The vehicle is described as a light-coloured, early 2000s Toyota 4Runner with a sunroof. Investigators are asking the public for assistance in identifying the suspect vehicle.
The pedestrian involved remains in hospital with serious life-threatening injuries. The AbbyPD General Investigation Section is actively following the evidence in this case with a team of investigators.
Investigators are seeking witnesses and dashcam footage from anyone who may have been in the area of Clearbrook Road north to Downes Road after the collision. If you can assist, please call the Abbotsford Police Department at 604-859-5225
Photos Suspect Vehicle: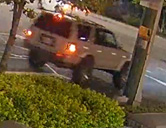 Video Suspect Vehicle:
https://youtu.be/bOwWrksFejA
Original Release:

On April 26th, at 11:59 pm, AbbyPD Patrol Officers responded to a Hit & Run collision involving a pedestrian along Hillcrest Avenue at Clearbrook Road. The vehicle involved in the crash fled the scene. Upon arrival, emergency personnel located a 38-year man suffering from life-threatening injuries.
The AbbyPD General Investigation Section (GIS), with the assistance of Patrol Officers, and the Integrated Collision Analysis Reconstruction Service (ICARS), is in the early stages of this investigation with the primary goal of identifying the suspect vehicle involved.
Investigators are seeking witnesses and dashcam footage from anyone who may have been in the area of Clearbrook Road & Hillcrest Ave just before & after the collision. If you can assist, please call the Abbotsford Police Department at 604-859-5225
AbbyPD File 2022-16839
Cst Paul Walker
Abbotsford Police Media Relations Officer
[email protected]