NEWS RELEASE
June 18, 2019
Official News Release Download
Mt Baker Climb to Remember
Fifteen hikers started their training this past week in preparation for a climb up Mt. Baker next month (July 21-23). Included in this group are Abbotsford Police Department Officers, the children of the late Constable John Davidson (Fay, Dina and Drew),
and members of the Central Fraser Valley Search and Rescue, RCMP and Abbotsford Fire Rescue Service.
Shortly before his death, Constable John Davidson had planned this climb with fellow officer, Constable Jason Baskin. Constable Baskin commented "John and I had planned to hike Mt Baker. I remember him looking at the mountain and saying, almost daily, he wanted to be there. I want to finish this climb to remember John, keep his memory alive, and fulfil his dream of climbing. It's very meaningful to me that our community partners are joining us to complete this climb together."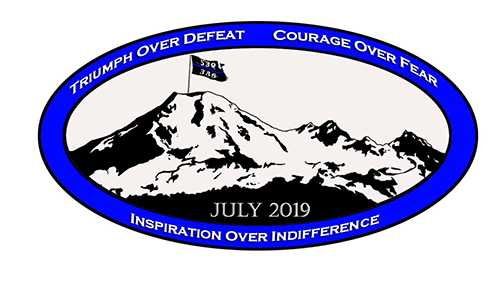 These climbers will make their way up 10,788 ft to the summit of this epic mountain This beautiful climb to the top of one of Abbotsford's most popular backdrops will take the trekkers up one the most glaciated peaks in the lower 48.
With the assistance of our community partners, Valhalla Pure Outfitters and Central Fraser Valley Search and Rescue, this group will be training in Abbotsford in preparation for this difficult trek. To successfully complete this trek, proper knowledge of glacial climbing and hiking, as well as specialized gear is essential. Stay tuned for event updates!
Climbers
Chief Constable Mike Serr
Fay Davidson
Dina Davidson
Drew Davidson
Sarah Waterhouse (AbbyPD)
Sergeant Kevin Murray (AbbyPD)
Sergeant Maitland Smith (AbbyPD)
Constable Jason Baskin (AbbyPD)
Constable Renae Williams (AbbyPD)
Constable Jenny Texeira (AbbyPD)
Constable Marie Page (AbbyPD)
Constable Neil Cole (AbbyPD)
Superintendent Murray Powers (Detachment Commander Langley RCMP)
Firefighter Juan Pablo Mora Perea (Abbotsford Fire Rescue Service)
Central Fraser Valley Search and Rescue
Valhalla Pure Outfitters
Sgt Judy Bird Phone (604) 864-4899
Abbotsford Police Media Relations Officer askmedia@abbypd.ca
2838 Justice Way, Abbotsford, BC V2T 3P5 Fax: (604) 859-2527